Post by SCORCH ▌ on Feb 27, 2015 12:27:06 GMT
Coming into Indigent might all seem a little bit strange, but we have put together this quick guide that should hopefully make things a bit easier to understand! There's only four points so hold onto your panties!
001.
What's a ranger?
You are! But that's not really an answer. Everyone on the site must have an ooc account and we call them ranger accounts. Please sign up with your alias as the account name and from there head over to the
ranger registration board
to create your Indigent scrap book!
002.
What is a range account for?
General ooc chatting, posting in plotters, gathering your credits and making your ranger records - which is kind of like your own personal Indigents scrap book. When we hold contests some of them might be ooc, so you can win cool awards for that!
003.
Teams? What?
With your ranger accounts we have also made three teams - Orion, Apollo and Sputnik. You can sign up to any team and there are special ways to earn points - winning awards, posting certain plots, etc etc. At the end of a Terra Term (about three Earth months) the team with the highest amount of points gets to pick a new addition to Indigents - maybe a new species? a new location? even a plot twist!
004.
If you have any questions, don't hesitate to PM an admin! Below this post is how to set up your profile, so keep reading if you need a bit of help!
So you may have noticed we have hover mini-profiles. Very flashy, I know, but they're also a bit strange to people who have never used them before. So here's a simple guide to help you to fill them out correctly.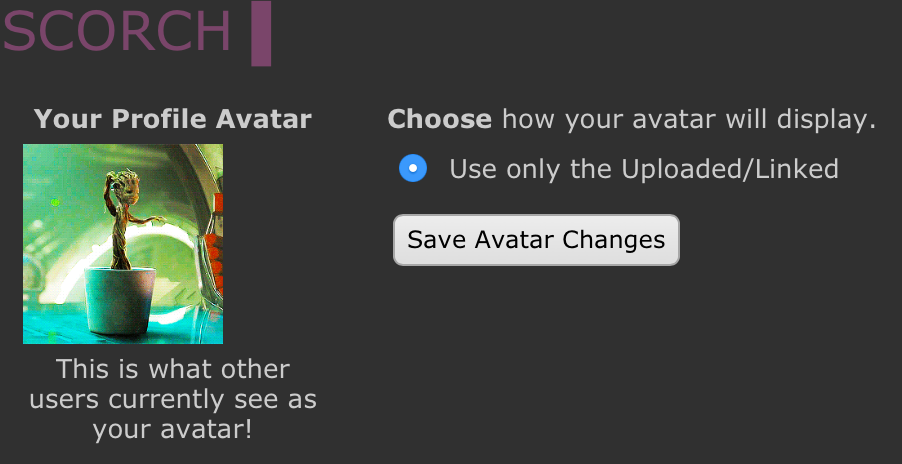 So as above you can add a 100x100 avatar! It's all pretty straight forward, but it's best to use the 'uploaded/linked' section and upload your image to photobucket, tinypic because then it's less likely to be re-sized.

This all looks a bit complicated, but I'll try and break it down for you here:
Cover Image:
Much like facebook, we have cover images in profiles. The image must be 900x400px wide, but can be of anything you really like - I'd suggest using it in place of a signature, so go crazy with awesome graphics. Remember to tick the 'yes' box below to make it show up.
You don't have to fill this out.
Music:
Get yourself onto kiwi6 and upload your favourite music, then just paste the direct link in here to make it play.
You don't have to fill this out.
Application:
As we don't have full applications on Indigent, just link to the thread you started to be accepted. If you make a character sheet or something in your scrap book, feel free to make that your link.
You must fill this out.
Tracker:
Very simply a link to your tracker.
Please try to fill this out.
Plotter:
Again, very simple. Link to your plotter!
Please try to fill this out.
Quotation Hex Color Code:
This is to colour the " by the status. Go check out a colour picker to find your favourite colour and put it in there without the hashtag - so for example #e05000 would just be e05000
Please try to fill this out.
Author URL:
Hopefully you've already made a ranger account, but in this box paste the url to that account. For example 'http://indigent.boards.net/user/1/'.
You must fill this out.
Authored by:
Really easy, just put your alias in there!
You must fill this out.
Age/Sexuality/Relationship/Job:
Pretty simple - age in numbers, the others just write with the first letter capitalised - e.g Single, Taken etc.
Please try to fill this out.
Alliance:
For your ranger account that would be your team name - Orion, Apollo or Sputnik. Character accounts would be Alpha, Nova, Alliance, Neutral.
Please try to fill this out.
*
: If you're filling out your ranger profile, none of the image have to be
you
. They can be whatever you like.